Osakan Philharmonic Winds
Osakan Philharmonic Winds was formed in 1999, and became the first non-profit band in 2006, with its home base in JUBEL Hall, Osaka. The ensemble features Yoshihiro Kimura as Music Director, Tomo Matsuo, Resident Conductor, Jan Van der Roost, Principal Guest Conductor and Koji Orita as Music Advisor. The OSAKAN annually give approximately 40 recitals and concerts of varied instrumentation, from full band to chamber ensembles. They often perform in the beautiful IZUMI Concert Hall, welcoming eminent professional musicians such as Joseph Alessi (New York Philharmonic Principal Trombone), Ricardo Morales (Philadelphia Orchestra Principal Clarinet), David Griffin (Chicago Symphony Orchestra Hornist), Corrado Giuffredi (Principal Clarinet of the Orchesta della Svizzera Italiana), and Christopher Martin (New York Philharmonic Principal Trumpet).
Osakan Philharmonic Winds has released more than 50 CDs, earning rave reviews in a variety of media.
In 2009 the band traveled to Cincinnati to represent Asia in the14th World Association for Symphonic Bands and Ensembles Conference. In 2018, the Winds were invited to perform for the 49th Japan Band Clinic's final concert. In December, 2019, they are honored to give the finale performance of the 73rd Midwest Clinic in Chicago, Illinois.
In 2019, receiving accolades from the international band world, the Osakan Philharmonic Winds proudly celebrate their 20th Anniversary.
 Resident Conductor/Tomo Matsuo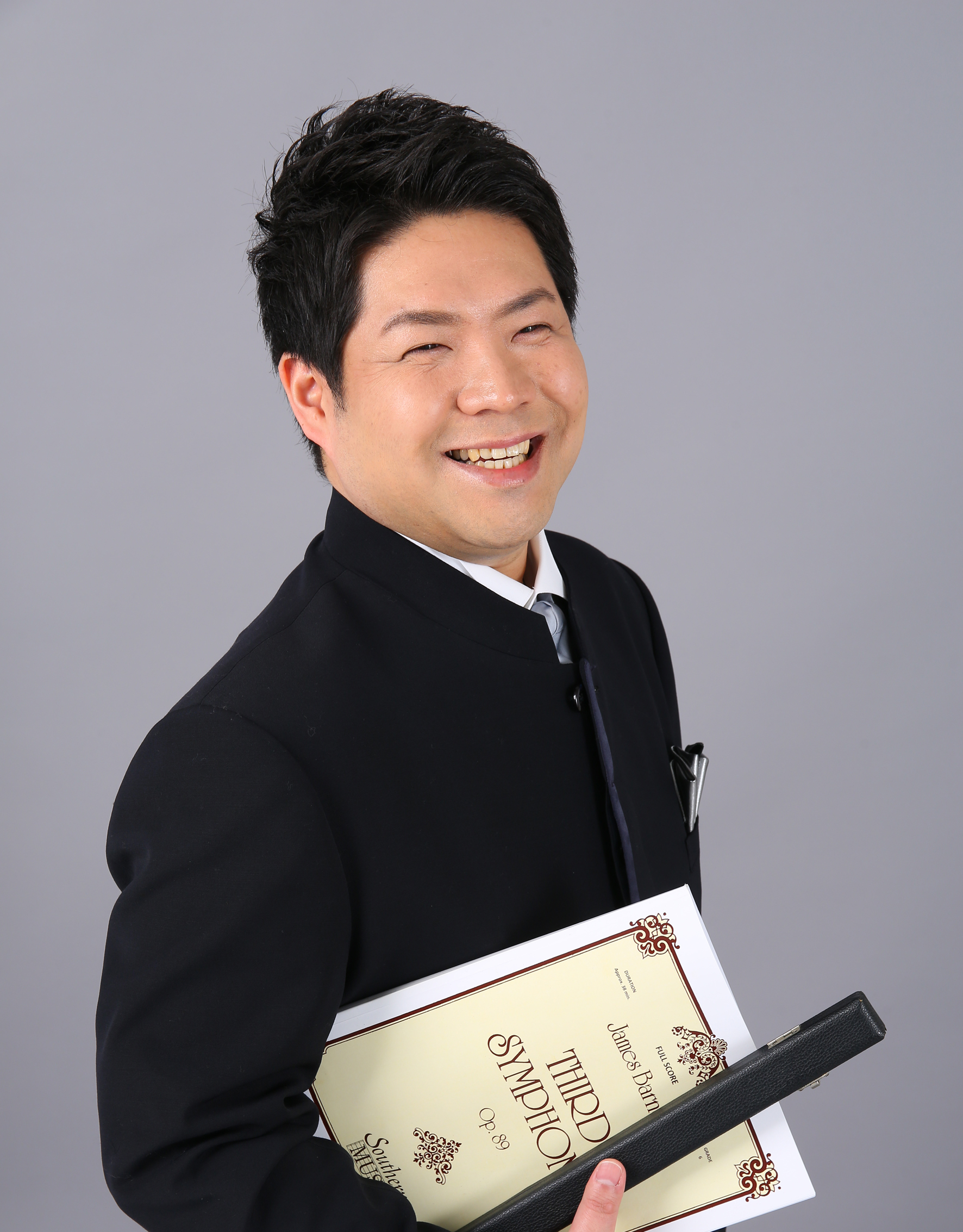 Tomo Matsuo was appointed Resident Conductor of Osakan Philharmonic Winds in January of 2018.
For his inaugural concert, Mr.Matsuo and band welcomed New York Philharmonic Principal Trombonist Joseph Alessi, who declared "This is a fantastic ensemble. They played with absolute precision and dedication and they sounded wonderful. Congratulations to Tomo on his conducting debut."
Mr.Matsuo graduated from Soai University majoring in trumpet performance, studying with Hiroshi Tsubaki, Hiromu Tanaka and Robert Sullivan, and conducting and music theory under Yoshihiro Kimura and Kiyoyuki Tsujii.
Mr.Matsuo is active as a clinician, visiting schools and adult groups locally and internationally.



Osakan Performs at the Midwest Clinic 2019!

The Osakan Philharmonic Winds is invited to perform at the final concert of the Midwest Clinic 2019 in Chicago, USA. We are celebrating the 20th anniversary this year, and this will be our second overseas performance.

Our concert is...
Saturday, December 21, 2019
11:15 a.m.
Skyline Ballroom W375AB, McCormick Place West, Chicago, Illinois
Tomo Matsuo, Conductor


It is a great honor to be invited to such a historic conference. All the Osakan members are excited for the wonderful opportunity and bracing ourselves for an effort to make the best music.

Osakan Philharmonic Winds
Our soloist in the Midwest Clinic is…

It is decided who we perform with in the concert!
The soloist is…
Mr.Joseph Alessi, the principal trombone player of the New York Philharmonic!

Besides, we received the message movie from him!
Please watch and listen how he thinks about the OSAKAN.

We worked with him 2 times, so we are sure that it will be wonderful collaboration.
Please check it out!
Our soloist in the Midwest Clinic is...

It is decided who we perform with in the concert, with Mr.Joseph Alessi!
The soloist is…
Mr.Christopher Martin, the principal trumpet player of the New York Philharmonic!
We received the message movie from him!
Please watch and listen about our concert in last April.

We are sure that our collaboration in the Midwest Clinic will be wonderful!
Besides, what is the "surprise" he talked in the message movie?
Please check it out!
 Crowd Funding

 We have challenged the first Crowd Funding challenge from June.1st to Aug.31st.
 We have supported from 63 people, 800,000JPY.
 Thank you very much for all.

 Fund raising

 We have challenged the fund raising in our concert hall and b through bank transfer from Apr.29th to Nov.30th.
 We have received1,441,035JPY.
 Thank you very much for all.
 Name list

 Thank you very much for the supports through the Crowd funding and fund raising in our concert halls.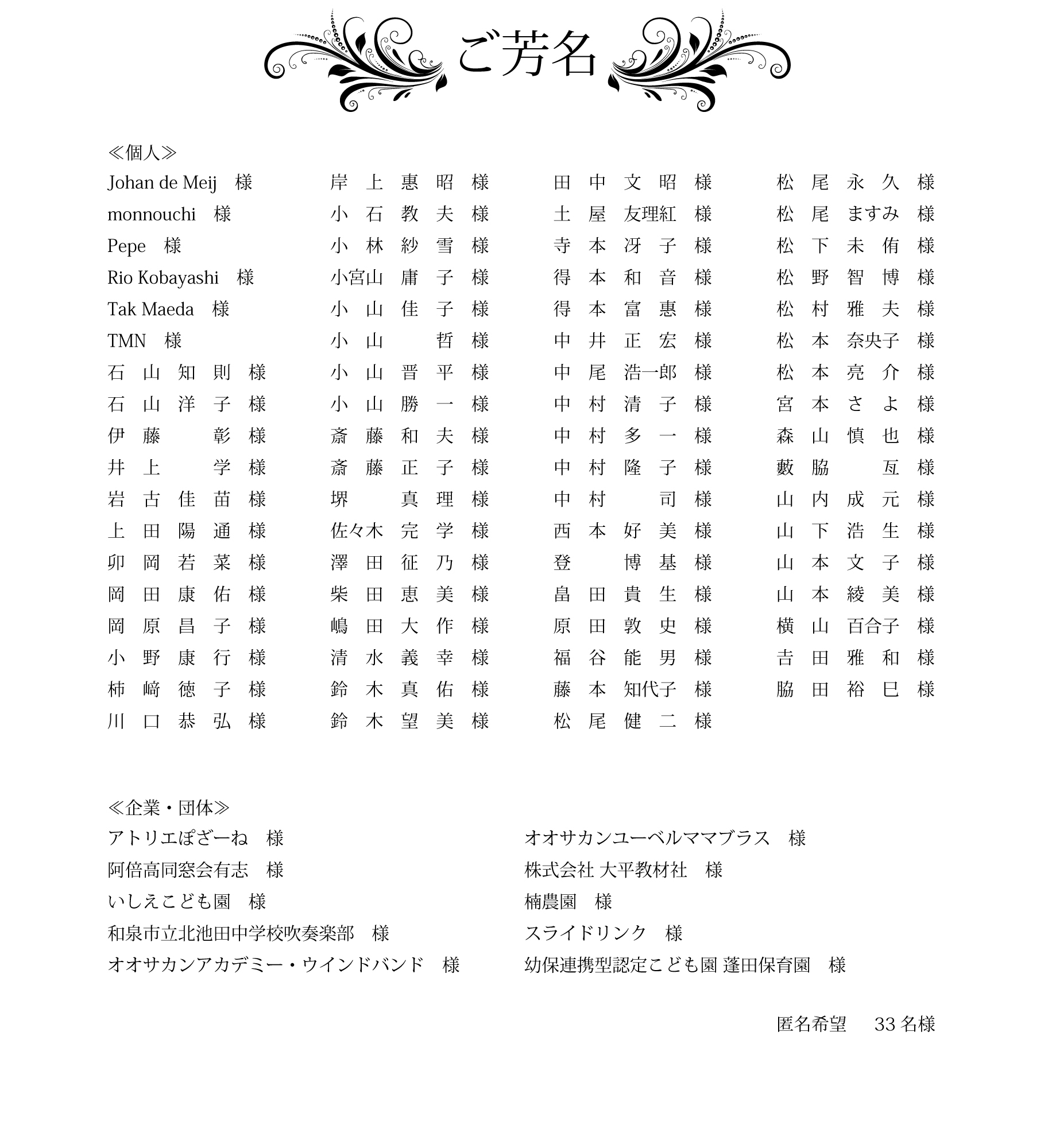 What's The Midwest Clinic?
The 73rd Annual Conference - December 18-21, 2019
The Midwest Clinic is the largest instrumental music education conference in the world.
For over 70 years, they have showcased the finest performances by ensembles from around the globe, presentations by the foremost experts in music education, and the latest music industry trends for all age and experience levels.
The Midwest Clinic International Band, Orchestra and Music Conference each year displays top ensembles throughout the music conference to showcase the newest ideas and talent. From students to professionals, performers have a chance to exhibit their talents to a supportive and enthusiastic audience with an interest in furthering music education. Each band and orchestra conference is unique and offers attendees the most up-to-date music styles and education techniques.
Learn More!
 → 
https://www.midwestclinic.org/
What's The Midwest Clinic?

The 73rd Annual Conference - December 18-21, 2019

The Midwest Clinic is the largest instrumental music education conference in the world.

For over 70 years, they have showcased the finest performances by ensembles from around the globe, presentations by the foremost experts in music education, and the latest music industry trends for all age and experience levels.

The Midwest Clinic International Band, Orchestra and Music Conference each year displays top ensembles throughout the music conference to showcase the newest ideas and talent. From students to professionals, performers have a chance to exhibit their talents to a supportive and enthusiastic audience with an interest in furthering music education. Each band and orchestra conference is unique and offers attendees the most up-to-date music styles and education techniques.

Learn More! → https://www.midwestclinic.org/
Osakan Philharmonic Winds
Higashitokiwadai 1-2-5, Toyonogun Toyonocho, Osaka 563-0103 JAPAN
■TEL: +81-72-741-8235 ■FAX: +81-72-741-8236