Osakan Philharmonic Winds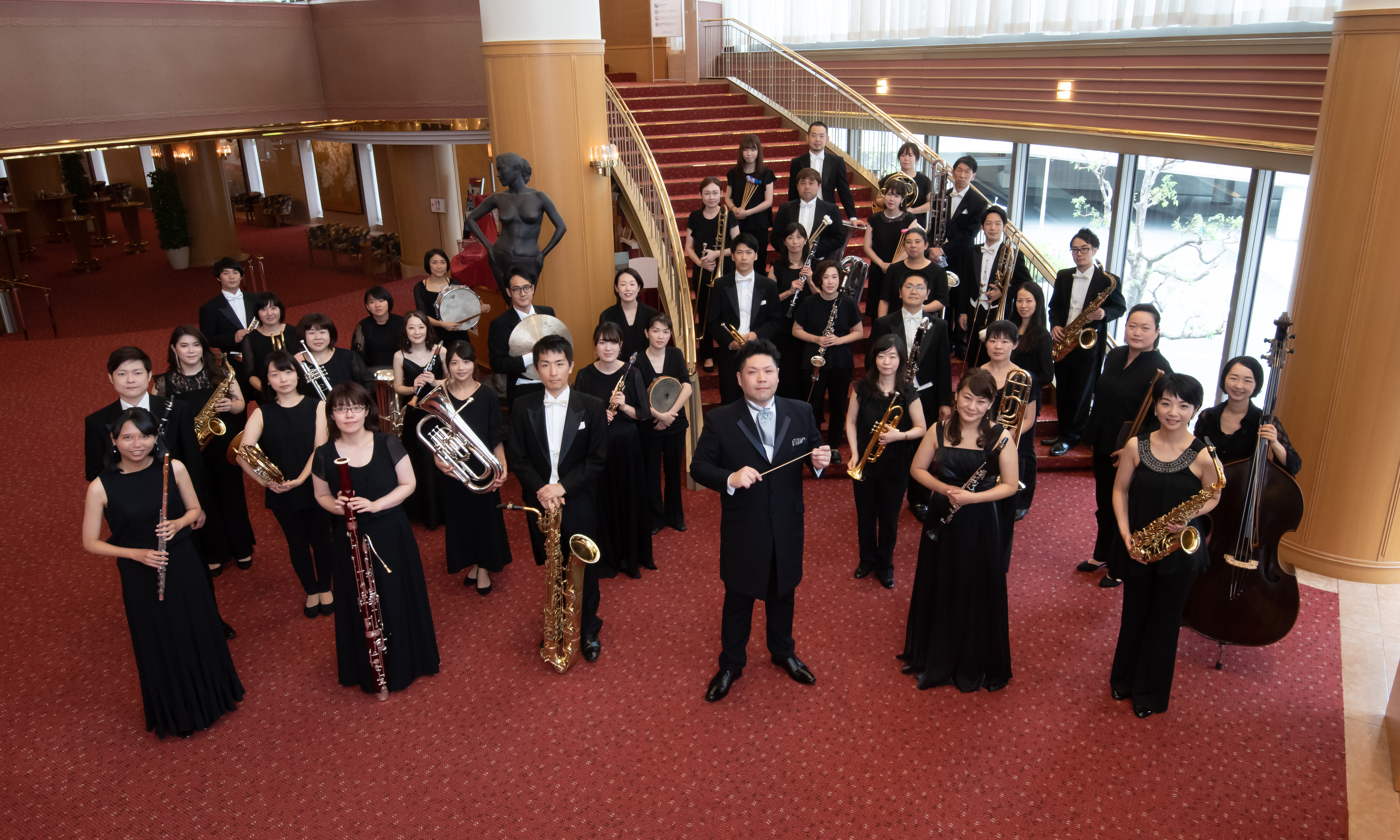 Osakan Philharmonic Winds was formed in 1999, and became the first non-profit band in 2006, with its home base in JUBEL Hall, Osaka. The ensemble features Yoshihiro Kimura as Music Director, Tomo Matsuo, Resident Conductor, Jan Van der Roost, Principal Guest Conductor and Koji Orita as Music Advisor. The OSAKAN annually give approximately 40 recitals and concerts of varied instrumentation, from full band to chamber ensembles. They often perform in the beautiful IZUMI Concert Hall, welcoming eminent professional musicians such as Joseph Alessi (New York Philharmonic Principal Trombone), Ricardo Morales (Philadelphia Orchestra Principal Clarinet), David Griffin (Chicago Symphony Orchestra Hornist), Corrado Giuffredi (Principal Clarinet of the Orchesta della Svizzera Italiana), and Christopher Martin (New York Philharmonic Principal Trumpet).
Osakan Philharmonic Winds has released more than 50 CDs, earning rave reviews in a variety of media.
In 2009 the band traveled to Cincinnati to represent Asia in the14th World Association for Symphonic Bands and Ensembles Conference. In 2018, the Winds were invited to perform for the 49th Japan Band Clinic's final concert. In December, 2019, they are honored to give the finale performance of the 73rd Midwest Clinic in Chicago, Illinois.
In 2019, receiving accolades from the international band world, the Osakan Philharmonic Winds proudly celebrate their 20th Anniversary.
 Resident Conductor/Tomo Matsuo
Tomo Matsuo was appointed Resident Conductor of Osakan Philharmonic Winds in January of 2018.
For his inaugural concert, Mr.Matsuo and band welcomed New York Philharmonic Principal Trombonist Joseph Alessi, who declared "This is a fantastic ensemble. They played with absolute precision and dedication and they sounded wonderful. Congratulations to Tomo on his conducting debut."
Mr.Matsuo graduated from Soai University majoring in trumpet performance, studying with Hiroshi Tsubaki, Hiromu Tanaka and Robert Sullivan, and conducting and music theory under Yoshihiro Kimura and Kiyoyuki Tsujii.
Mr.Matsuo is active as a clinician, visiting schools and adult groups locally and internationally.



 Osakan Philharmonic Winds Performance Series Japanese Greats for Band
We are starting a performance series
featuring Japanese great works.
One reason is that we have recorded nearly 100 Japanese band works on CD.
With our experience and expertise, we would like more people from the other side of the world to know about Japanese composers and their works.
From Japan to the world,
Osakan Philharmonic Winds' passion and pursuit for music is clearly shown in their performances.
Our new project starts here and now…
Performance Series: Japanese Greats for Band
Conducted by Tomo Matsuo(Resident Conductor of OSAKAN)
Performed by Osakan Philharmonic Winds

《Schedule》
 ■Wednesday, May 5 Tears of the Princess KUSHINADA flowing in Hii/Masanori Taruya
 ■Wednesday, May 19 Wind and Sky from the Hometown/Hirokazu Fukushima
 ■Wednesday, June 2 Rhapsody for band/Hiroshi Ohguri
 ■Wednesday, June 16 Journey to the West/Hayato Hirose
 ■Wednesday, June 30 RYOJINHISHO - Fantasy of KUMANOKODO/Hirokazu Fukushima

Supported by J-LODlive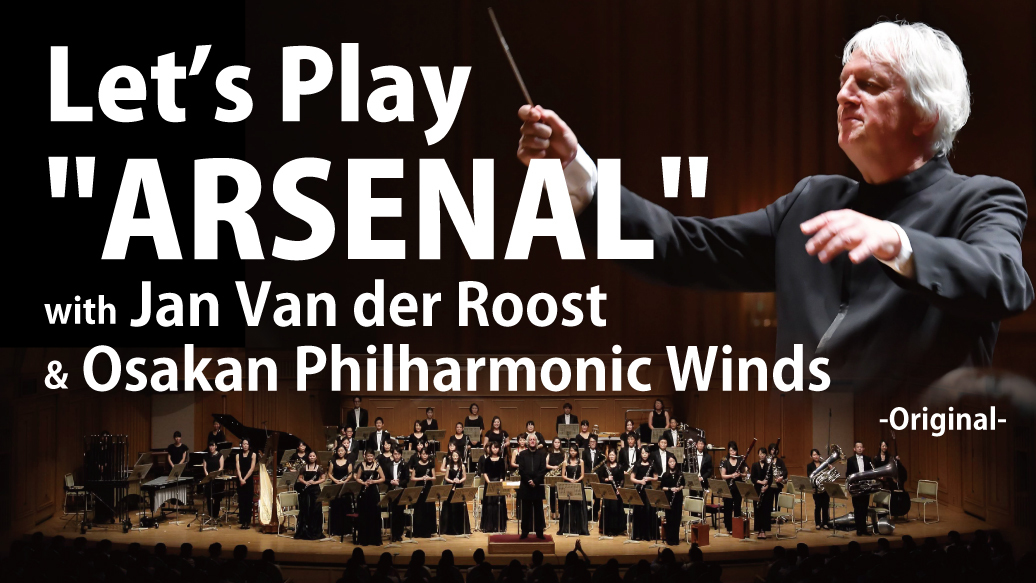 Let's Play "ARSENAL" with Jan Van der Roost & Osakan Philharmonic Winds
 

Gratitude

This project started from the end of April, the deadline of applications has passed. Fortunately, about 150 people from all over the world sent the videos. We sincerely appreciate everyone's application.
We, OSAKAN, will restart the concert from August. We look forward to having you join us and listening our "live" performance.

《Final Edition》

《Special Edition》

《Original Edition》
 Greetings
Hello everybody, Dear music lovers.
I am Jan Van der Roost. I greet you from my home here in Belgium. Because indeed, like many people, I cannot leave my home. We have to stay here because of the health crisis, the COVID-19 Coronavirus which really has hit large parts of the world. Probably also your own country is suffering.
Especially makes music making difficult because it is hard to rehearse or to play concerts in combination with the social distancing which is now mandatory.
Fortunately however, there is a digital means. And that's what I would like to do now with you, I would like to invite you to play together my most popular march "ARSENAL", and it will be together with fantastic Osakan Philharmonic Winds. Please pick up your instruments, and let's play together "ARSENAL".

―Jan Van der Roost
Principal Guest Conductor of Osakan Philharmonic Winds
The deadline of applications has passed. Thank you so much for many applications!
Osakan Philharmonic Winds
Higashitokiwadai 1-2-5, Toyonogun Toyonocho, Osaka 563-0103 JAPAN
■TEL: +81-72-741-8235 ■FAX: +81-72-741-8236